There's nothing worse than not being able to sleep. You toss and turn, maybe check your phone a few times, and worry as minutes ticks away, leaving with less time to get quality sleep. This might make you try anything to knock yourself out, even CBD oil. However, can CBD and sleep make a difference?
What You Need To Know About CBD And Sleep
First, What Is CBD?
CBD is a naturally occurring compound found in hemp that is separate from THC, the compound found in marijuana that is responsible for causing a high. CBD is not psychoactive and doesn't get people high, but instead may provide a variety of benefits by positively impacting the endocannabinoid system (ESC).
The ESC is a biological system made up of cannabinoid receptors throughout the body. It's responsible for regulating normal bodily functions such as appetite, mood, sleep, digestion, pain, and more. When CBD interacts with these receptors they may provide relief from insomnia, nausea, chronic issues, and more.
IS CBD Legal? Yes, CBD is federally legal and many states are passing individual laws on CBD sales and regulation. In most states, it's legal to purchase CBD oil with less than .3% THC, which will not get you high or appear on a drug test.
CBD For Sleep
When it comes to falling asleep CBD may be able to assist be relieving issues that keep you awake. It doesn't necessarily make you drowsy like sleep medications. For example, CBD may relieve: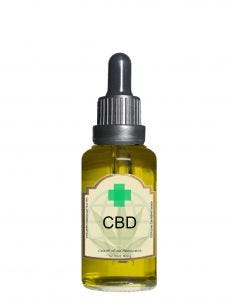 Stress and anxiety. When you lay down and can't clear your mind due to how much you have to do at work or worrying about certain situations over and over it can keep you up. Especially if you're stressed about getting used to a new CPAP mask. However, CBD may be able to clam your mind and help you remain calm to prevent stress and restore a natural balance. This way you'll be able to fall asleep instead of staying up to worry.
CBD may also be able to relax your body by reducing pain and inflammation. This way instead of lying awake wishing you could find relief, you could experience soothing relief. It may also prevent pain from waking you up as well. Also, because CBD may be linked to reducing hypertension, so it may have a role in relaxing your body for sleep.
In order to feel rested, aside from treating sleep apnea your body needs to naturally cycle through the sleep stages a few times each night. The stages are 1, 2, 3, and REM (Rapid Eye Movement) and it takes about 90 to 110 to cycle through. For proper rest, your body needs to spend the correct amount of time in each cycle and CBD may help you achieve a more structured sleep.
CBD And Sleep Apnea
There is speculation that CBD may be able to treat the cause of sleep apnea, whereas CPAPS devices help you manage the condition. Obstructive sleep apnea (OSA), the most common type, occurs when the soft tissues of your throat collapse blocking your airways. CPAPs work by providing a constant stream of air to keep your airway clear, allowing you to get the oxygen necessary for proper rest.
The idea that CBD may help you keep your airways open by keeping your muscles relaxed is still being explored, but more studies need to be performed. So far, CBD for sleep has only been researched with the use of THC as well and it did so the potential to possibly provide sleep apnea relief.
THC And Sleep
So if you live in a state where recreational or medical marijuana you may be inclined to try THC for sleep, but a few potential negative side effects have been found. For example, THC may:
Increase anxiety
Decrease the amount of time spent in REM sleep for improper rest
Make you feel drowsy the next day
Different concentrations may affect your body differently
How To Sleep Better Now
Keep using your CPAP machine to continue managing sleep apnea for better rest. CBD could potentially help by relaxing your airways, but more studies need to be performed to confirm this. In the meantime keep using your CPAP, however, CBD may help you relax and to fall asleep faster. Always ask your doctor before taking or trying new medications.