Whether you've just been diagnosed with a sleep disorder, or you're looking to upgrade your old CPAP, there's never been a better time to shop for a new CPAP machine.

Advances in technology have led to incredible new features that can improve your sleep quality and your quality of life! But how do you tell the must-haves from the mistakes? To help you choose, we've put together a list of the best CPAP machines according to our Director of Clinical Operations. Below that, we explain the types of CPAP machines you'll encounter and what features to look for, so you can decide on the perfect machine for yourself!
The Best CPAP Machines of 2021
Best CPAP Machine Overall
Quietest CPAP Machine
Best Travel CPAP Machine
Easiest CPAP Machine
Types of CPAP Machine
Features to Look For in a CPAP Machine

Best CPAP Machine Overall - ResMed AirSense 10 AutoSet (or AutoSet For Her)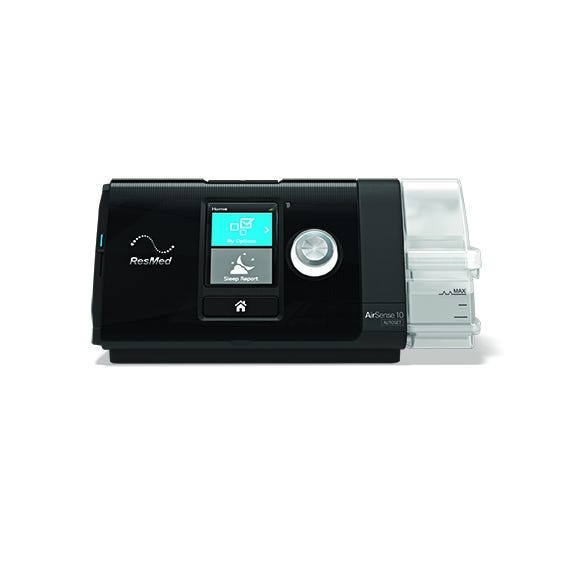 One of the best-selling APAPs on the market, the AirSense 10 earns this title because it is absolutely packed with high-tech comfort features that you'll wonder how you went without. Yet it still manages to keep a competitive price point.
The AirSense 10 is named for its ability to actually sense your breathing and automatically adjust your pressure settings accordingly.
ResMed takes this one step further with their SmartStart feature, which begins your sleep therapy as soon as you start to breathe, and pauses it when you remove your mask.
It's sister machine, the AirSense 10 AutoSet for Her, uses an advanced algorithm specifically designed to address women's unique sleep apnea symptoms. It also uses slower, more gentle adjustments in pressure, so you can sleep peacefully while it works it's magic.
Noise Level: 26 dBA
Weight: 2.75 lbs
Mask Compatibility: Any
Humidifier: Built-In
Feature Highlights
Easy-to-read daily progress reports
AutoRamp with sleep onset detection
SmartStart automatically starts/stops when you wear your mask
Auto-climate and temperature controls
Compatible with ResMed's myAir sleep tracking smartphone app
Screen adjusts to ambient light so it won't keep you awake
Shop the ResMed AirSense 10 AutoSet or AutoSet for Her
Quietest CPAP Machine - Philips Respironics Dreamstation Auto
At only 25.8 decibels the Dreamstation Auto CPAP machine is whisper quiet, but that's not the only thing to love. With all of its features it could easily challenge the AirSense 10 for the top spot.
Like the AirSense, the Dreamstation Auto can sense your breathing pattern and automatically adjust your air pressure. It also features event detection and mask fit check, which can alert you to changes in your breathing pattern or loss of pressure in your CPAP.
Together, these options make sure that your sleep therapy is as effective as it can be.
The front-facing display can be operated while lying down in bed, and shows daily progress reports on your sleep quality and CPAP use. If that intrigues you, you'll love Respironics' DreamMapper app. The Dreamstation's standard Bluetooth connectivity pairs with your smartphone to give you customized feedback and advice based on your personal sleep data!
Noise Level: 25.8 dBA
Weight: 1.6 lbs
Mask Compatibility: Any
Humidifier: Optional but integrated
Feature Highlights
Event Detection and Mask Fit Check
Optional humidifier is integrated for seamless use, but can be easily removed for travel
Compatible with Respironics DreamMapper sleep tracking smartphone app
Screen adjusts to ambient light so it won't keep you awake
Shop the Philips Respironics Dreamstation Auto
Best Travel CPAP Machine - ResMed AirMini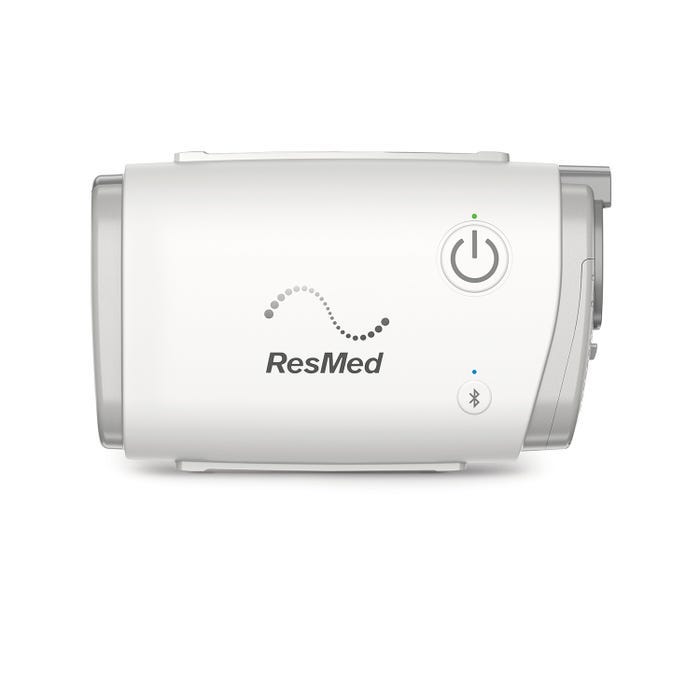 Though she be but little, she is fierce! The ResMed AirMini is the smallest portable CPAP on the market, but can still provide the same air pressure strength as its larger cousins. In fact, the AirMini can be set to mimic a fixed-pressure CPAP, an AutoSense APAP, or even the AutoSense for Her.
The AirMini is also a perfect choice for frequent flyers. It's FAA-approved, and the auto-altitude adjustment allows it to be used in-flight.
The waterless humidifier means you'll never have to worry about stowing bottled water everywhere you go. And at only around 10 ounces it's easy to toss into your carry-on!
But the coolest feature of the ResMed AirMini? All of its functions and settings can be controlled right from your smartphone!
Noise Level: 30 dBA
Weight: 0.66 lbs (That's only 10.6 ounces!)
Mask Compatibility: AirFit P10 Nasal Pillow, AirFit N20 Nasal, AirFit F20 Full Face, AirTouch F20 Full Face, or AirFit F30 Full Face Mask
Humidifier: Waterless Humidifier
Feature Highlights
FAA-approved for flight
Auto-altitude adjustment
Smallest travel CPAP available
Settings for CPAP, AutoSense, or AutoSense For Her function
Standard Bluetooth connectivity connects to the AirMini app
All of the same AutoRamp and SmartStart features as the AirSense 10
Easiest CPAP Machine - Philips Respironics Dreamstation Go
The Dreamstation Go is one of the most popular CPAP machines available– for travel or for home. That's partly because of it's small size and partly because it's so easy to use!
From its simple, color touch-screen display to its click-connect tubing, the Dreamstation Go is designed to be a stress-free machine.
The USB charging port, overnight battery, and FAA certification also make this an incredibly attractive choice for CPAP users who travel. The included micro-flex tubing takes up less than half the space of a standard hose, but is still compatible with any mask.
And unlike other travel CPAP machines, which may not hold up to extended daily use, Philips designed the Dreamstation Go so that it can be your home CPAP too. The Go promises to handle over 5 years of nightly use!
Noise Level: 30.7 dBA
Weight: 1.86 lbs
Mask Compatibility: Any
Humidifier: Optional but integrated
Feature Highlights
USB charging port
Optional integrated overnight battery
Micro-flex tubing takes up 58% less space than standard tubing
Standard Bluetooth compatibility and access to DreamMapper sleep tracking app
Full color touch screen
Shop the Philips Respironics Dreamstation Go
Types of CPAP Machine
If you're new to CPAP therapy, you might be surprised to find out that there are different types of CPAP devices. To understand how they differ, and how to choose the right CPAP machine, it helps to understand how a CPAP machine works.
People with obstructive sleep apnea experience pauses in breathing anywhere from five to 100+ times per hour. These pauses happen because the muscles in your upper airway collapse as you inhale. Continuous Positive Airway Pressure (CPAP) therapy prevents this by delivering a stream of pressurized air that keeps your airways open. 
The difference between the types of CPAP machine is in how they deliver that airflow. Though they all deliver the same effective sleep therapy, the choice can make a big difference in terms of your personal comfort and sleep quality.

Your healthcare professional will help you determine which is right for you. 
Standard CPAP Machine (Fixed Pressure)
The most common type of PAP is the standard CPAP– also known as a "set pressure" or "fixed pressure" machine. As the name suggests, this type of machine uses one consistent air pressure throughout the night.
Your pressure setting will be prescribed by your doctor or sleep specialist based on the results of your initial sleep study.
Shop Fixed Pressure CPAP Machines
Auto CPAP (APAP)
Auto CPAP machines are similar to standard CPAPs, except their pressure will automatically adjust during your sleep if it detects that more or less is needed. They can sense if you're struggling against your pressure or if more is needed to prevent apneas. Your healthcare provider will set a range of pressures, and the APAP uses an algorithm to adjust within that range.
The self-adjusting feature also allows an APAP to easily account for lifestyle changes, such as weight loss or gain. It can also accommodate normal, everyday changes in breathing pattern, like when you change your sleep position, or have a sinus cold.
BiPAP Machine
The Bi in BiPAP stands for "bilevel", meaning they have two different pressure settings. They work by producing a higher pressure when you inhale and a lower pressure as you exhale. This is helpful for CPAP users who have difficulty breathing against a fixed pressure setting.
They are typically prescribed to patients who need very high air pressure, or who have severe OSA. BiPAP machines can also be helpful in avoiding side effects associated with high pressures, like aerophagia– the medical term for swallowing air.
Travel CPAP Machine
Travel CPAPs have all of the same features that larger devices have, only in a smaller, compact form. These lightweight pressure machines often weigh in at only a few ounces, and are easily packed into any bag for traveling. They can be taken on planes, used while camping, or fit on any hotel nightstand away from home.
Travel CPAP machines often feature flexible power options, such as an overnight battery, car adaptor, or even a solar adaptor!
Though they offer the same air pressure, and are usually compatible with the same CPAP masks and CPAP supplies, travel CPAPs may not be designed for long-term use so they shouldn't be used for everyday sleep therapy unless approved by your sleep specialist. That said, for travelers with OSA a travel CPAP is a must have!
Features to Look For in a CPAP Machine
While the type of machine is determined by your healthcare needs, there are a number of other features that can enhance your sleep quality and your quality of life. Since these features can sometimes mean the difference between compliance and failure to use your CPAP, they are important to consider.

Think about your lifestyle needs and then check out these options for your CPAP therapy.
Ramp
CPAP devices with the Ramp function will start at a lower pressure, and then gradually rise to your prescribed pressure settings. This allows CPAP users to fall asleep comfortably, but still receive the full benefits of their airway pressure machine.
Some machines feature AutoRamp, which can sense when you've fallen asleep and adjust the ramp time accordingly. However, some CPAP users say that the AutoRamp algorithm can be a little too sensitive, causing it to adjust while still awake.
Whether you prefer Ramp or AutoRamp, if you have difficulty falling asleep while using your CPAP machine these features can help you stick with your sleep apnea treatment.
Humidifier
One of the most popular CPAP features is a humidifier, which adds moisture to the air drawn in by your CPAP machine. Humidification can help you breathe more comfortably, and can relieve side effects like dry mouth, sore throat, and stuffy nose. If you're a mouth-breather, or frequently suffer from congestion or allergies, a humidifier can be a dream come true.
Exhalation Relief
This feature goes by many names, depending on the manufacturer. You may see it referred to as Expiratory Pressure Relief (EPR), C-Flex, A-Flex, SmartFlex, or more. This setting lowers your pressure when you exhale, so you don't have to work as hard to breathe against the airflow.
No matter what you call it, this feature is extremely helpful for CPAP users who require a high pressure, or who have difficulty breathing over a constant pressure.
Sleep Tracking
Most CPAP machines are able to record therapeutic data, but some more advanced models can even provide daily reports on your sleep quality!

Recorded data usually includes hours of usage, average pressure, and AHI (apnea-hypopnea index). This information is important to help your doctor determine the effectiveness of your treatment and to record compliance. CPAP machines have been able to record this on memory cards for a long time, but newer machines can connect to your smartphone via Bluetooth. This allows you to view custom sleep health reports via apps like DreamMapper, and allows your physician to access your health data directly through the cloud.
More advanced machines can even sense things like mask leaks, snoring, and how long you've spent in REM. They can then use that data in your personalized report with advice on how to better your sleep!
Noise Level
When it comes to sound, not all CPAP machines are created equal, but decibels can be a confusing measure. To put it into perspective, 30 dBA is considered "whisper quiet."
Anything below 30 and you'll barely notice the sound at all. This is an especially important consideration if you share a bed with a partner!
What Is the Best CPAP Machine For You?
Now that you understand what to look for, make a list of the features that matter most to you, and check out our wide selection of CPAP machines! You can sort and compare them by machine type, options, or even budget. 
If you've got more questions and would like to speak with an expert on what CPAP machine will fit your lifestyle, reach out to one of our Sleep Specialists at 1-866-298-6482, or email us at info@cpapsupplies.com

We'll coordinate with you and your doctor– and even your insurance company– to make sure you get the sleep therapy you need at the best price possible.