Your CPAP mask experiences wear and tear night after night.  Parts need to be maintained, cleaned, and replaced to continue operating at peak performance. Learn exactly how and when to replace your CPAP mask to get the most out of your sleep apnea treatment.
Why Do I Need To Replace My CPAP Mask?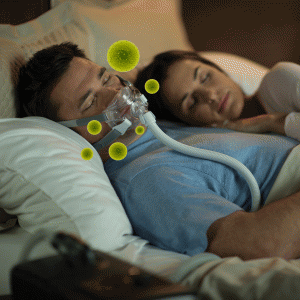 CPAP masks are generally made of soft materials like plastic or silicone to provide an effective, yet comfortable seal while you sleep. But over time, these materials can break down as they come into contact with the oils and dead skin cells on your face.
As abrasion causes materials to become worn down, your CPAP mask can develop micro tears that fill with bacteria, allergens, viruses, and other harmful pathogens.
As the seal breaks down, the sizing may change. All of a sudden you'll have to keep tightening your headgear to keep the frame on your face. This can make the mask feel too tight and cause pressure marks. It can also cause the headgear to stretch or break and the mask to leak. If your mask leaks, you won't receive the oxygen your body needs.
How Do I Know When To Change My CPAP Mask?
There are a few clear signs that signal when it's time to replace your CPAP mask:
When the seal because discolored
When the seal feels rough and uncomfortable against your skin
When your mask starts to leak
If the headgear because stretched, loose, or frayed
If the mask doesn't fit anymore
If the frame is bent
If your mask starts making unusual noises
How Often Should I Replace My CPAP Supplies?
The CPAP supplies that make up your mask need to be replaced according to their various life spans. The schedules are determined to keep your mask in tip-top shape and may vary between different brands and CPAP mask types.
Nasal Cushions: Nasal cushions or nasal pillows are found in nasal masks. They either create a seal around your nose or sit in the nostrils. They need to be replaced every 14 days.
Full Face Mask Cushions: CPAP cushions create a seal over your nose and mouth. They need to be replaced once a month.
CPAP Mask Frame: Your CPAP mask frame is connected the cushion to the mask and headgear. It needs to be replaced once every three months.
CPAP Mask Tubing: Your CPAP hose delivers air from the CPAP machine to the mask and needs to be replaced once every three months.
CPAP Headgear: Your CPAP headgear is the part places over your head. It connects to the mask to keep it from falling off your face while you sleep. They're made of soft, flexible materials that can become stretched and torn over time.
CPAP Mask: Your CPAP mask is the component that holds the cushion. It needs to be replaced once every three months.
That's a lot of different pieces of CPAP equipment with a lot of different schedules to remember. Take the hassle of keeping up with your replacement schedule by subscribing to the CPAP Supplies replacement subscription! You new CPAP supplies will automatically arrive right on time to your home, so you won't have to deal with remembering to replace each part.
Also, why settle with the same old CPAP mask every time? About once a year check out the newer, advanced masks with innovative comfort. The Dreamwear CPAP mask, for example, doesn't have a forehead strap and the tubing connects at the top of the head.
Plus, having a backup mask on hand will be great in the event of an emergency. If you favorite mask breaks, simply whip out the back up. If you have a stuffy nose you'll need to switch to a full face mask, or you might want a lighter option for traveling.
Cleaning Your CPAP Mask
To expand the lifespan of your CPAP supplies be sure to clean them once a week. This will get rid of dust and bacteria that could be abrasive or lead to an infection. Wash your CPAP mask be disassembling it and swirling the pieces around in warm soapy water for about five minutes. Use a gentle, nonscented cleanser like Dawn. Then thoroughly wash each part and hand them up to dry before putting your mask back together.
But one not save time instead with the best CPAP cleaner? There are two main options to choose from! The SoClean CPAP cleaner and sanitizer wipe out 99% of bacteria and germs without the use of harmful chemicals. Place your CPAP supplies inside come back later to find them like new!
Also, you could use the Lumin CPAP cleaner to instantly clean your CPAP supplies and knock out 99% of harmful pathogens and irritants in as little as five minutes. Simply place your mask inside the Lumin and return before bed for a fresh and clean mask, free of germs. There's no need for water or harmful chemicals because the Lumin uses UV light to naturally sanitize CPAP supplies.