Medicare coverage can be confusing, even when you're not fighting excessive daytime sleepiness. Will it cover CPAP equipment? Will my deductible apply? Do I need another sleep test?
That's why we've made this simple guide to Medicare coverage for CPAP therapy. Below we'll explore how to get Medicare to cover your CPAP machine (as well as a regular schedule of replacement CPAP supplies) and what you'll need to do to qualify!
Table of Contents
Does Medicare Cover CPAP Machines?
Let's start with some good news: Yes, Medicare will cover your CPAP machine! Not only that, they'll cover a regular schedule of replacement supplies– like masks, filters, headgear, etc.!
Your CPAP device (or 'Continuous Positive Airway Pressure' machine) is considered "durable medical equipment (DME)", which means that it is covered under Medicare Part B. This is important for reasons we'll get into later!
Medicare will also cover different types of PAP machines, such as BiPAP or APAP, and even alternative treatment options like oral appliances and mouthguards.
However, this coverage does require that you meet certain requirements and follow certain guidelines.
What Does Part A or Part B Mean?
"Original Medicare" or "traditional Medicare" is made up of two parts: Parts A and B.
Medicare Part A covers hospital expenses, including nursing facilities, hospice, and home healthcare services.
Medicare Part B is more like private health insurance and covers outpatient medical care, routine preventative care, as well as durable medical equipment.
How Do I Qualify For CPAP Coverage? Medicare CPAP Guidelines
To have Medicare cover your CPAP equipment you'll have to meet the following guidelines:
Be enrolled in Medicare. To enroll, you must be 65 or older and a U.S citizen (or permanent resident for five consecutive years). You can learn more about enrollment at www.Medicare.gov.
Be diagnosed with Obstructive Sleep Apnea (OSA). This will require a sleep study, which can be performed in-lab or at-home.
Get a prescription for a CPAP machine. Your prescription must come from a doctor that participates in the Medicare program.
Order a new CPAP machine from a Medicare-approved DME supplier. We recommend a DME company like Aeroflow Sleep or similar providers.
Complete a 90-day Compliance Period. Think of this like a 3-month trial of CPAP therapy. This shows that you're using your CPAP machine and that your CPAP therapy is effective.
What Is Medicare CPAP Compliance?
Once you receive your CPAP or BiPAP equipment, you'll begin a "compliance period." Think of it like a three-month trial period. This is to demonstrate both that you're using your equipment and that it's an effective treatment option for your OSA.
During the compliance period your doctor will monitor how often you use your CPAP. This is recorded by your CPAP device, either through an SD memory card or via Bluetooth connectivity.
To meet compliance, Medicare requires that you use your CPAP machine 1) at least 4 hours per night, 2) for at least 70% of nights, 3) for 30 consecutive days of the first three months.
That can be a little confusing, but what you need to know is: Use your CPAP machine for 30 days in a row, and at least 21 of those days need to be 4 hours or more per night.
Lastly, you'll need to meet with your doctor between the 31st and 90th day of the compliance period!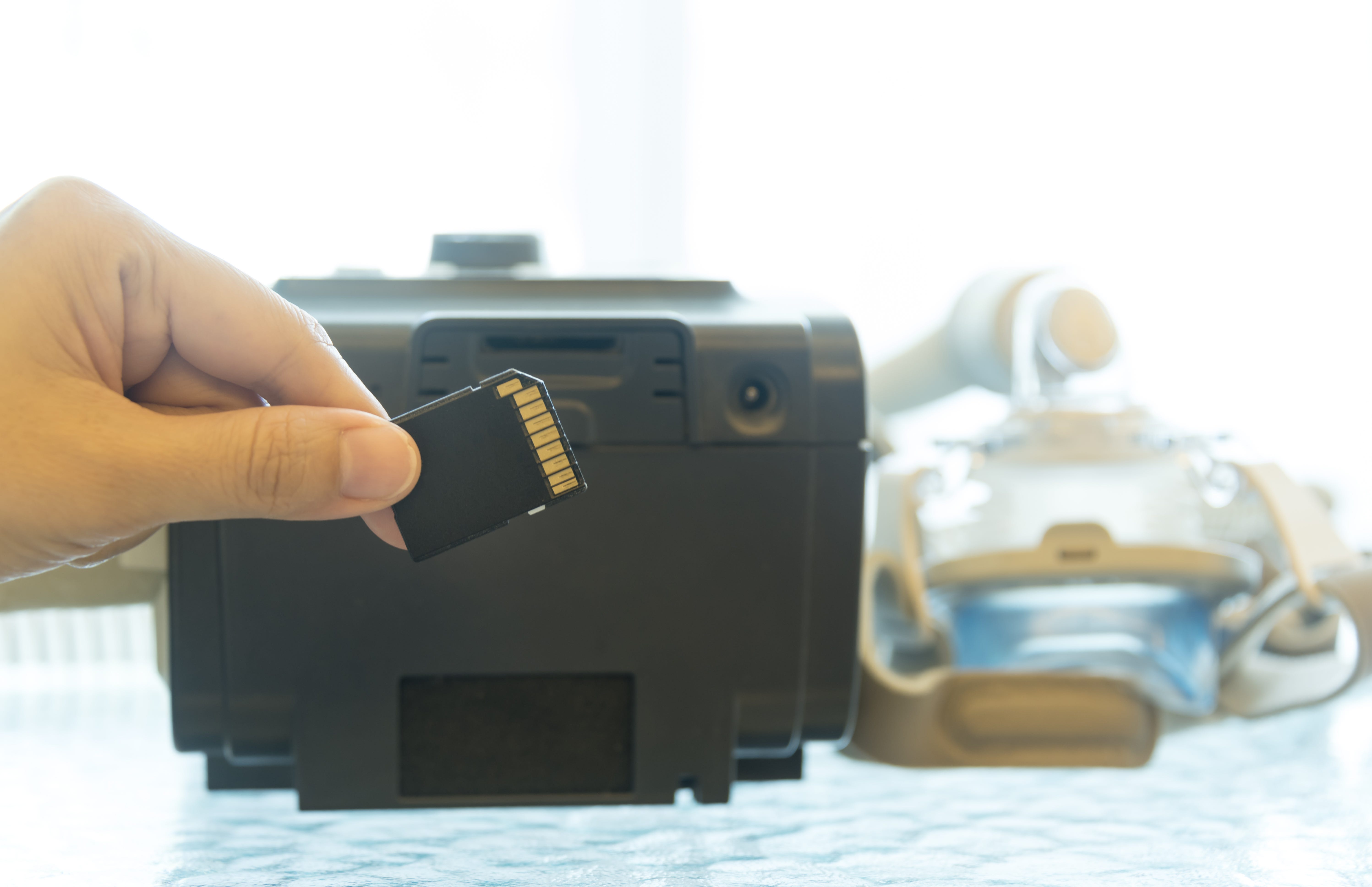 How Much Does a CPAP Machine Cost with Medicare?
Since your CPAP equipment is covered under Medicare Part B, you'll first need to meet your Part B deductible.
Once your deductible is met, and your compliance period is successful, Medicare will require a 13-month machine rental. During this rental period Medicare will pay for 80% of the cost of your CPAP machine and supplies. After 13 months, you'll own your CPAP machine completely.
Your cost during the rental period will be your normal 20% coinsurance. This means the exact cost depends on:
How much of your deductible you've met
The price of the CPAP device
Any other secondary insurance plans or Medicare supplement plan you may have
What Does Deductible Mean?
Deductible - How much you'll pay for covered healthcare before Medicare or your insurance company will begin to pay.
Coinsurance - A portion of the cost of covered healthcare you pay after your deductible is met. Your medical insurance will cover the rest.
Out-of-Pocket Maximum - The most you'll pay for covered healthcare in a given plan year.
How Often Can I Get a New CPAP Machine on Medicare?
Medicare will usually cover a new CPAP machine every 5 years! This is also how long most manufacturers estimate that a CPAP machine will last, so even if your machine seems to be working, it's a good idea to replace it before it breaks down.
Are CPAP Cleaners Covered by Medicare?
Unfortunately, CPAP cleaners and sanitizers aren't covered by Medicare; however, they are eligible to purchase with your HSA/FSA funds!
CPAPsupplies.com offers a wide selection of CPAP cleaners at the lowest prices, so an affordable sanitizer may still be in your budget.
Medicare CPAP Supplies Replacement Schedule
With time and use your CPAP equipment will begin to break down, reducing the effectiveness of your CPAP therapy. To keep your treatment both effective and hygienic Medicare will cover replacements for your CPAP supplies according to the following schedule:
Full Face Mask Cushions - 1 every month
Nasal Pillows/Nasal Mask Cushions - 2 every month
Disposable Filters - 2 every month
Reusable Filters - 1 every 6 months
CPAP Mask - 1 every 3 months
CPAP Tubing - 1 every 3 months
CPAP Headgear - 1 every 6 months
CPAP Chin Strap - 1 every 6 months
Humidifier Water Chamber - 1 every 6 months
CPAP Machine - 1 every 5 years